Categories
Project Management Made Easy: 12 Basic Tools to Help You Master Project Management
Project management is a long, complex process that requires exceptional leadership, constant attention, effective communication, and hard work on top of everything else. But like many other aspects of our life, digital tools have completely revolutionized the way we manage projects.
Don't believe us?
Here are 12 of the best tools to help you stay on top of your game when it comes to project management:
WorkComposer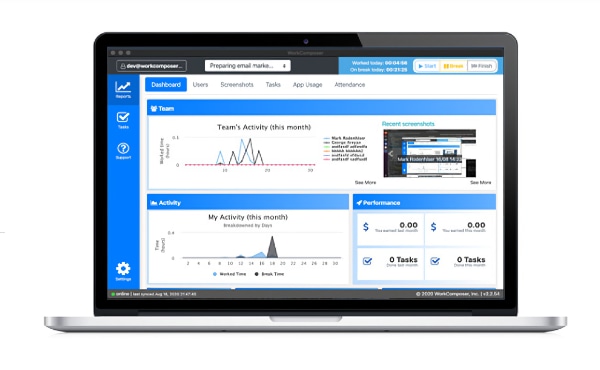 No list of digital management tools is complete without WorkComposer. This is a brilliant tool to help you track progress with remote employees. From assigning tasks to monitoring working hours, it gives you control back in the post-pandemic era.
Asana
If you need a tool to help you collaborate and strengthen teamwork, Asana is the perfect tool for you. It is great for businesses of all sizes, except maybe freelancing. Not only does it allow you to automate recurring tasks and invite unlimited guest users, the interface is simple which means you don't need any training to use it.
Trello
The intelligent project tracking features, interactive maps, boards, and tables, make Trello perfect for project managers. It also includes visual task boards and allows you to create custom task workflows.
Hive
This is a cloud-based tool that helps you streamline project management. Whether it is collaborating, assigning tasks, or automating recurring tasks. Their customer service is extremely responsive, and I have always gotten a pretty quick answer to any question. However, the billing is a bit tricky and it has a learning curve, so it is not that beginner-friendly.
GanttPro
If all these options seem a little too pricey for you, give GanttPro a try. It costs much less than Trello or Hive, but it lacks some important functions too. For example, there are no options for customizable dashboards or reporting. That aside, GanttPro has some really remarkable features such as the critical path feature and kanban board view. Also, your history is saved in case you want to undo anything.
Monday.com
If a user-friendly interface is one of your top concerns, you will be quite satisfied with monday.com. It includes various templates with in-app automation and plenty of customization options.
However, I just wish they made the billing process a bit easier. It is unnecessarily confusing with its pricing rubric.
Paymo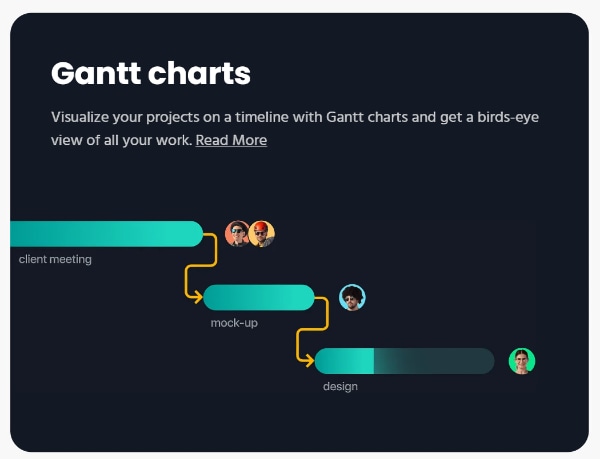 Another project management tool that deserves a spot on this list is Paymo. The merits of this app include its easy invoicing and billing, in addition to its phenomenal time-tracking tools. It is perfect for medium-scale businesses that value time tracking more than anything else.
Teamwork
If you need software that is more oriented towards handling client work, you are bound to love this tool. Its clean UI makes it extremely beginner-friendly. More unique features include Gantt charts, board views, and task tracking. The only complaint I had from this tool is the lack of PDF or image markup tools.
Workzone
This is another all-in-one software that integrates many useful features under a single roof. The dashboard option and the templates on this one are pretty good. Overall, it is great for both the micro and macro aspects of project management. The plethora of tools makes it an all-in-one package however, it might make this tool a bit complicated for new users.
Zoho Projects
Small and growing business owners can greatly benefit from Zoho Projects when it comes to project management. First of all, the pricing is peanuts compared to the value you get for your money. Secondly, it is quite easy to set up and use. The communication options in this app are on-point and the resource management view is quite different from other apps.
One of the most distinguished features of Zoho Projects are the remarkable collaborative tools that it offers, something every business should try.
Kanban Projects
Kanban Projects is the ideal tool for people looking for collaborative tools, analytics, reports, and organizing features. From kanban board features to real-time workflows, this tool helps you stay on top of your game when it comes to project management. Some of its features overlap with others in the list and you can definitely try the free version to check if the software is compatible with your needs.
Zenkit
With its multiple view options, mind mapping, interactive calendars, and the option of creating custom fields, Zenkit definitely deserves a spot on this list. It doesn't cost much, but the payment option is available only yearly. Other than that, the lack of PDF or image markup tools is also a cause of frustration among users.
Conclusion
In a nutshell, the market is filled with interactive and highly customizable tools when it comes to project management. To avoid being overwhelmed, try identifying your needs and budget and then sort out the options.
Analyzing the list, our favorite has to be WorkComposer. It increases your control in remote working conditions and for the amount you pay, you get substantial value.
Click the link to find out more.