Time Tracking Modes Explained
Automatic Tracking Mode
By default, WorkComposer has automatic mode enabled and starts tracking automatically. No user input to start or stop WorkComposer is needed. Clock in and clock out time is being collected automatically. You will see only two buttons, "Start" and "Finish," on your desktop application. However, you wouldn't need to click on any button to start or resume your work if the automatic mode is enabled. When you start your computer, the tracking will begin automatically. Also, when you leave for a break and leave the computer unattended, WorkComposer will detect that inactivity and automatically turn on the break mode again. When you return from the break and move the mouse or press any key, WorkComposer will resume the tracking automatically. If you want to use the computer for personal activities, you can click the "Finish" button, and tracking will stop completely. We recommend keeping the "Automatic" mode enabled to prevent the user from forgetting to start tracking when beginning to work.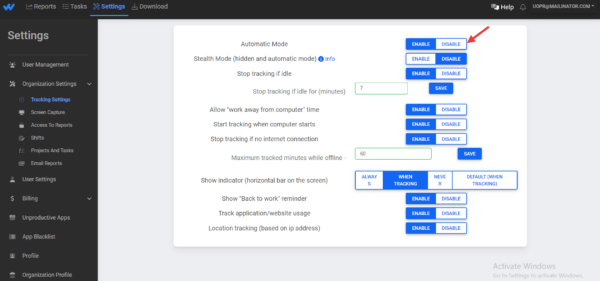 Manual Tracking Mode
To change the "Automatic" tracking mode to Manual Mode, follow the steps below:
1. Settings→Organization Settings→Tracking Settings
2. Disable Automatic Mode
In the "Manual" mode, you would see three buttons. You should click on the "Start" button when you start your work. While leaving for a break, you should click on the "Break" button. And click on the "Finish" button when you finish your work.
Fusion Mode (Stealth Mode)
The "Fusion"(Stealth) mode is almost the same as the "Automatic" mode, with the exception that WorkComposer doesn't show the break, away, and other popups. With that mode enabled, WorkComposer runs in the background, with tracking always enabled. The tracking behavior is entirely automatic with minimal interaction with the user. To set employee time tracking in the background, follow the steps below:
1. Settings→Organization Settings→Tracking Settings
2. Enable the "Stealth" Mode
When enabling the Stealth Mode, you can decide to show a tracking indicator to your employees or hide it.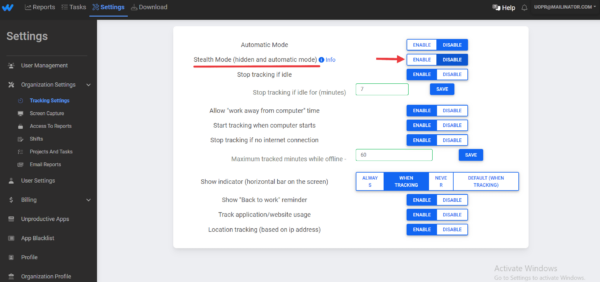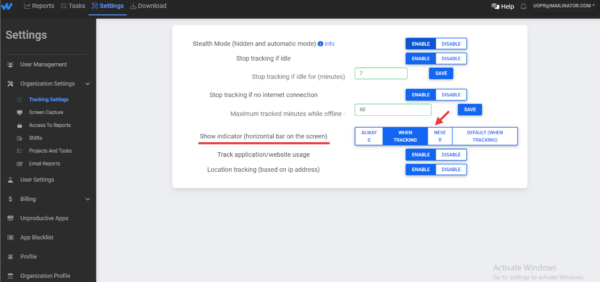 Remember
1. When you enable the "Stealth" Mode after you have already installed WorkComposer on employees' computers, they would need to restart the computer for the Stealth Mode to get fully activated.
2. Break time tracking is fully automatic with Stealth Mode. No interaction is needed when an employee leaves for a break. However, under Automatic and Manual modes, you can schedule a break time. The pop-up will notify the employee that the scheduled break time has started.
3. Some options are not compatible with Stealth Mode. For example, "Allow work away from computer" time.