Categories
Streamline Your Workflow with the Best Screenshot Tools: A Comprehensive Guide
Are you looking for the best screenshot software to streamline your workflow? Do you want to know about the best screenshot software?
A screenshot, a screen grab or a screencap is an image showing the content of your device's display at a specific moment. Screenshots record what you view just as you are seeing it so that you can share it with someone else or utilize it as a reference later on. Screenshots are a form of digital proof, proving that you are seeing what you claim to see.
Screenshots have been around for a while. Students have used them to record, edit, and share lecture notes for further self-study. Users on social media have begun snatching up comments and images online and sharing and reposting them.
That also remains true at work. While project planning tools, video conferencing software, and messaging apps have changed the workplace, simple screenshots can also change routine workflows and collaboration. Exactly how? And what is the best software?
A good screenshot software such as WorkComposer can significantly assist your work by taking important data, collecting motivational content, or detecting document errors. It's important software for everyone in the office, especially for employees.
The option to record your laptop screen can be helpful in various tasks, like storing digital moments for future analysis or creating lessons. You can capture your desktop by using this screen capture software. Let's continue to read the article:
The Use of Screenshot Software in the Workplace is Growing
Screenshots have become more and more valuable in the workplace. You can get a lot done faster and without interruption to your productivity by successfully taking a screenshot of your screen and sharing it with a colleague.
For reference, sending a quick screenshot of the error to your IT team is more efficient than calling or texting a description of the situation if you're installing software and getting an error message. It's not always about the quality of the image.
Best Screenshot Software to Streamline Your Workflow
There is a lot of screenshot software but finding the best one is quite difficult. But you don't need to worry now! WorkComposer is one of the best screenshot software. Let's have a look at it: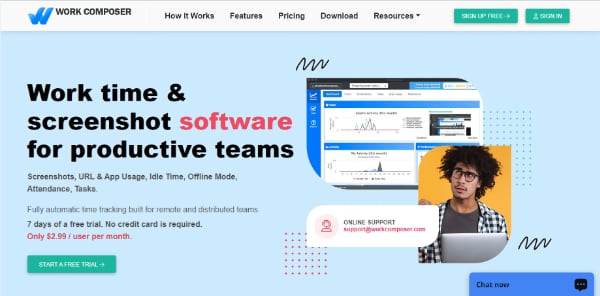 WorkComposer is an all-in-one solution for companies that enables seamless teamwork. Taking and sharing screenshots is simple by using this WorkComposer screenshot software. This screenshot software is fully secured and best for team efficiency and productivity.
With its advanced features, you can easily put your inspiration and ideas along with labels, ratings, and remarks. Its features allow you to easily add marks such as drawing, highlighting, arrow, and collage to identify the key places in your screenshots.
WorkComposer screenshot software is perfect if you often get ideas from the Web in just one click! You can save certain parts of the network page and immediately organize the data, or you can save the entire page.
Moreover, WorkComposer allows users to record their screens or take screenshots easily. You can easily save or share the file after capturing or taking screenshots. WorkComposer is an excellent choice if you are searching for reliable screenshot and screen recording software.
Advantages of Using Screenshot Software
WorkComposer screenshot software can deliver several benefits to your business. Let's take a look few of them:
Perform an end-to-end review of employee performance
Customer service is particularly important for business owners to be aware of the status of their employees. Even though employees put in a lot of effort, screen recording and capturing are the best ways to understand their performance. You can provide top-notch customer service by integrating call recording with screen recording software.
You can also track and monitor the performance of the employees using the playback feature of the software. With a screen capturing tool, you can handle customers and know employee productivity.
Keep the content on hand for future use.
WorkComposer allows you to save the videos for later use as you record or capture them. Take advantage of the built-in editor with many options for optimizing images and videos. Additionally, you can trim the videos according to your needs and choose the resolution. These features enabled the software to continue recording screens without compromise.
Making the Problems & Solutions Simple
A screen recording is useful when a solution is being given, or a problem is being explained digitally. As well as showcasing your issues to others, you can provide solutions. The corporate world would provide faster technical assistance. Clearly defining the problem to the techies can resolve it quickly.
Last Thoughts
Screenshots are a quick and straightforward way to improve productivity and streamline collaboration. You can use WorkComposer screenshot software to take screenshots. Some software for taking screenshots can provide a variety of functions, while others offer excellent support or simplicity. So, it's best to go for WorkComposer as it is all-in-one screenshot software.