Categories
A beginner's guide to employee productivity monitoring
Monitoring employee productivity is not a new concept. It has been discussed and implemented for decades now. But, with the advent of technological advancements, this process has become much more sophisticated and efficient than before.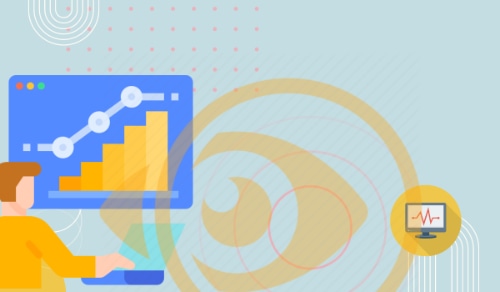 What is Employee Productivity Monitoring? 
Employee monitoring is the process of tracking and measuring how employees work. It can be done by using different tools such as timekeeping software, call logging, GPS tracking, and more.
Organizations identify high-performing employees, spot areas for improvement in employee performance, and reduce labor costs through Employee productivity monitoring. It also helps organizations understand their workforce better and create an environment that will help them achieve their goals.
Let's have a look at why Employee productivity monitoring is important.
Why Employee Productivity Monitoring is important?
Why employee productivity monitoring is important? Because the productivity of employees will get the company towards its goals. Employees' productivity highly influences a company's success or failure. It is the main reason why Employee productivity monitoring is so important. Monitoring how well your employee is functioning is vital for the success of your business.
Success in business cannot be achieved without productive employees and effective employee productivity monitoring. An American Management Association study suggests that the percentage of major companies monitoring employees rose from 35% in 1997 to 78% in 2001.
Advantages of Employee Productivity Monitoring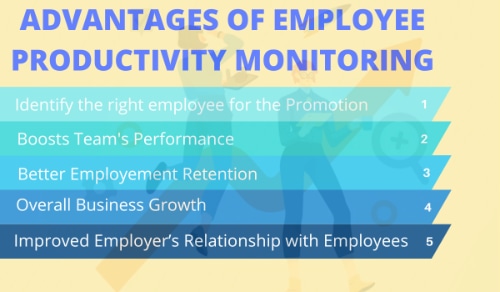 The advantages of monitoring employee productivity are that you get a better insight into your team's performance, improving their chances of success by providing them with the necessary resources for their tasks.
Identifies the right employees for promotion;
Regular reviews are a great way to identify core employees, once all the employees go through the same productivity test, it becomes easy for managers to evaluate them for promotion. These Monitoring tests enhance employees' trust in an organization.
Boosts team's performance;
Employees work harder when they feel their work is being recognized, recognition improves employee engagement and motivation toward work.
A Gallup survey suggests
Better employee retention
When the employees feel their hard work is being incentivized and their career is progressing they do not think of switching jobs. Regular feedback from your employees not only increases interaction but also communication gets easy and productive.
Improved Employer's Relationship with Employees
Monitoring your employee closely will help you to identify strengths and weaknesses, once you note down the main points you can talk to your employee separately, this will build a strong relationship between you and your employee.
Overall business growth
The above benefits highly contribute to the growth of business overall. Motivated employees deliver better work and are always finding new approaches to improve their performance. This reinforces the importance of employee productivity monitoring.
Types of Employee Productivity Monitoring
Employee monitoring is the use of various methods to gather information about the worker`s computer activity and the locations of staff members. There are various types of monitoring employees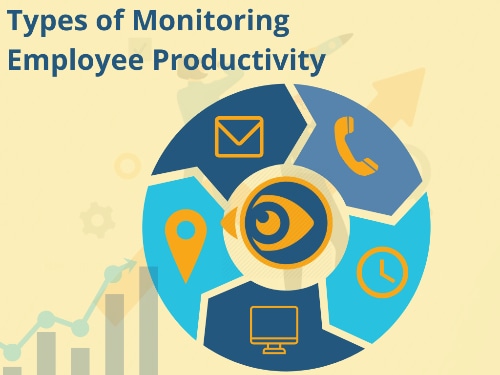 Few commonly used ways are
Computer monitoring
Often refers to monitoring employees` computers and internet use. Time tracking software collects the type of data accessed by the employee in a given amount of time. this helps organizations track employee hours and make sure the company`s time is used productively. The top industries using employee computer monitoring are marketing and IT industries are on top when it comes to employee monitoring.
Call monitoring
Monitoring through employees' phones is mostly used at call centers for reasons of quality control. Recording employees. Apart from the quality phone recordings are also often used for training - workers listen to their conversations for self-evaluation.
Email monitoring
More than 50% of larger companies monitor their employees' email to ensure workers don't waste the company's time, as well as for security reasons. Companies monitor their employees` emails to protect against confidential information leaks. Simply put, letting employees know that they are monitored helps employers protect both their business and the employees of the company.
Time-clocking
Time-clocking means tracking employees` arrival and departure times using a time clock app. This helps employers to keep an eye on their workers to make sure they`re not late for work and don`t leave before the workday is over.
GPS tracking
Usually used by companies to track employees' current location. The GPS tracking system mounted on the devices allows you to monitor employees and plan daily routes more efficiently.
How to monitor employee productivity?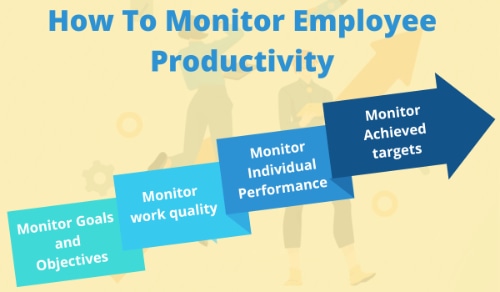 Productivity is a major factor in the success of any business. It is important to monitor employee productivity to make sure that they are working efficiently and effectively.
Monitoring Goals and Objectives
Monitoring the achieved Goals by the employees in different projects is one way to check employee productivity. These milestones can consist of the amount of work that can be done in a given time i.e. weeks or days.
Monitoring work quality
Keeping quality first priority is another way to monitor employee productivity. It is said that "It is quality rather than quantity that matters" continuously monitor the work quality with every passing milestone. It will give you a complete insight into employee productivity.
Monitoring Achieved targets
The quality of the tasks completed by the employees says a lot about employee productivity. Monitoring the quality of achieved targets helps you see the big picture. Over time you can identify trends in employee productivity.
Monitoring Individual Performance
While you are monitoring overall performance, do check out every employee's performance separately to see how much productivity employees are showing individually.
By leading you through a beginners guide to Employee productivity Monitoring I can finally suggest
One of the most important factors in business success is the productivity of your employees. If you can keep track of how they're working, and make adjustments when necessary, you'll see big improvements in your company's bottom line, as well as its overall health and growth potential. It's far easier to let things slide and hope for the best, but you'll be rewarded with a much more sustainable company if you can keep tabs on your employees' productivity from start to finish.