Categories
Computer Monitoring With Mac Monitoring Software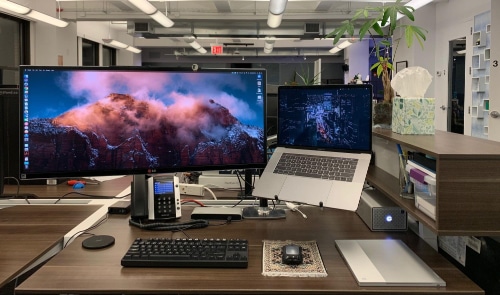 Want to check what kind of activities your employees are doing on the computer? Well, you can do that quite easily with the help of monitoring software. And if you want to particularly monitor the activities with Mac monitoring software, this article can prove to be beneficial for you.
To make their teams more productive, managers are constantly looking to make use of computer software. Additionally, even though computer monitoring does potentially lead to some concerns, productivity can easily be increased with the right software.
In today's article, we are going to discuss what exactly computer monitoring is and why it is essential. We are also going to discuss why WorkComposer is considered to be the best Mac Monitoring software that you can use. So without wasting any more time, let's get started.
What Is Computer Monitoring?
Computer monitoring is basically a method of automatically analyzing computer use, including software, web browsing, social media, and the list goes on. On the basis of the data gathered, it aids in evaluating attendance and productivity. In this regard, the best method to use is computer monitoring software.
Why Is Computer Monitoring Important?
A computer system's monitoring is just as crucial as the system itself. A computer system can be monitored to ensure proactive response, data security, data collection, and overall system health.
Along with that, employee productivity and efficiency can also be boosted with the help of computer monitoring using the monitoring software.
Now that we know what computer monitoring is and why it is important, it's time to discuss the best Mac monitoring software.
What Is WorkComposer?
WorkComposer is a premier Mac monitoring software. It is deemed to be a top-rated computer monitoring software due to its amazing features and high affordability.
Let's talk about the top features offered by WorkComposer's Mac monitoring software.
Features Offered By WorkComposer
There are a number of amazing features provided by WorkComposer:
1 Time Tracking
No doubt, one of the issues that almost all managers face is the tracking of time of their employees. In this regard, the time tracking feature of WorkComposer can prove to be beneficial for you as it helps you in tracking every employee's time. Moreover, in the end, it provides you with a breakdown of the employee, tasks done, and projects executed. This feature of WorkComposer will help you improve the productivity and efficiency of your team as you will be able to easily identify where exactly the time is being wasted and how your employees can improve that.
2 URL & App Tracking
Want to know which websites or applications your employees are visiting while working on their computers? Well, you can do that easily with the help of the URL & App tracking feature of WorkComposer. With this amazing feature, you will be able to recognize those sites and ask your employees to block these sites or not to visit them during working hours.
3 Auto Screenshots
Another amazing feature of WorkComposer is auto screenshots. With the help of this mac monitoring software, you will be able to capture screenshots of your employees' computer screens. You will be provided with clear and detailed screenshots of the user's screen. Not just that, but you will also get the details regarding the mouse and keyboard activity levels. Isn't that amazing?
4 Task Management
Task management is key to achieving high levels of efficiency. With the help of the WorkComposer task management feature, you can do that as well. This phenomenal feature allows you to create the tasks, assign those tasks to your team members, organize projects and sprints, and track time spent on these projects. Not just that, but you can also choose project members and set hourly rates for each member with the help of this fantastic feature.
5 Privacy & Security
Another major factor that most managers and owners consider with regard to the Mac monitoring software is privacy and security. Well, this issue is also solved with the help of the privacy and security features of WorkComposer. In order to keep your information safe, the software provides top-class encryption methods, features of tracking data only when computers are operating, and complete control over who can access the data.
6 Fusion Mode
Similar to the aforementioned feature, this fusion mode of WorkComposer gives you the ability to track data only when the computer is turned on. Whenever the system is operating, the software will continue to track the data. You can use that data to further analyze how your employees are using the office computers and whether they are misusing them or not.
Pricing
In comparison to various Mac monitoring software out there, WorkComposer is deemed to be one of the most affordable options. The amazing software allows you to utilize its phenomenal features just for $2.99/per user per month. You will be billed annually. Sign up today and enjoy the free 7-day trial with unlimited users.
Bottom Line
The aforementioned are some of the best features of WorkComposer Mac monitoring software that you can use for computer monitoring. All of these fantastic features and the affordability of this amazing software make it the number one choice of various organizations around the globe.