Categories
Meet the Best of the Time Tracking Software Industry
Do you intend to Adopt the best time tracking software to expand your business? Looking for the right choice? You are at the right place. The remote work model doesn't work well for everyone. It is a very critical decision for your business. To make it a success you have to choose what works best for you and your organization.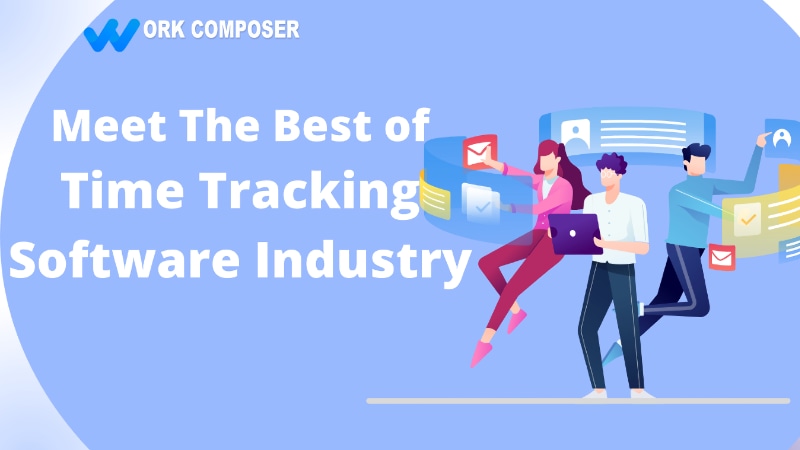 It doesn't matter if your company has fewer or hundreds of remote employees, Time tracking software is a solution for best management. As a manager, you know what specifications your business needs.
Business Specifications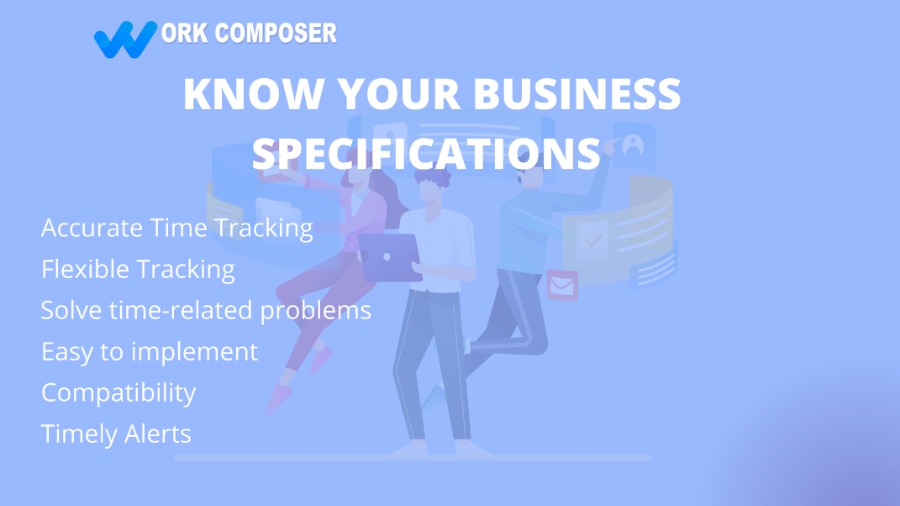 Before searching for the best time tracking tool you should have a detailed list of specifications for your business needs.
Make sure the time tracking system you choose tracks time accurately. Because you don't want to pay your employees for wasted hours.
Look for a system with more Flexible time tracking options. Track your employees through emails, Location, and online activities.
Choose a Tracking system that not just tracks time but also monitors and solves all time-related problems like proper work and time schedule.
Make sure to select a tracking software that is easy to implement and use. Complex systems require special training that increases the cost of your project.
Choose a tracking system that provides timely alerts and notifications.
The chosen Time tracking software must allow compatibility with your already installed software and hardware.
Make sure your chosen time tracking software does not allow editing of employee data reports at the managerial level. So that you must see the original unedited data.
Once you have decided on your business specifications it's time to look for a time tracking software that meets your business needs in the best way possible. The WorkComposer meets all these specifications.
Let's have a look at key features The WorkComposer offers
Features
The WorkComposer Time tracking software has a wide range of features to keep you updated on employee activities. It lets you set specific rules and policies for remote teams. Managers and remote working teams receive notifications on different events happening during the day.
Time Tracking
The key feature is time tracking. Managers and Business owners want to check on their employee's working patterns. Tracking productive and non-productive hours of the employees. It provides detailed reports on employees' start times, breaks during work, and work duration.
Team Management
Working inside an office or managing multiple teams at remote locations, the WorkComposer time tracking software is your must-have option. It comes with a complete software solution. You can control and assign payrolls to your employees based on their roles in the company and the number of hours billed. The mobile monitoring feature helps you to stay in touch with the whole system even if you are away from office space.

Deep analysis
The WorkComposer time tracking software has a detailed analysis feature. Deep analysis helps you to increase productivity and gain insight into your business. Detailed data reports show the data in graphs and charts making it easier for you to read complex data.
Employee Engagement
The employee engagement feature refers to the dedication an employee has for work. Not many managers realize the importance of employee engagement. The WorkComposer time tracking software allows you to establish active engagement with your team. When you incentivize your team members and recognize their work based on reports, their motivation level increases tremendously.
Monitoring Productivity
Business managers use the time tracking software data to access how much time an employee is taking on a given task. This WorkComposer time tracking software helps them to recognize the productivity level of each employee. The managers can give additional training to employees with low productivity. It allows businesses to retain employees for the long run.
Web Usage
This feature helps managers to see the URL and website usage and the amount of time spent on each website. The WorkComposer time tracking software collects the data online and offline.
Data Privacy and Security
The uploaded data is completely safe with WorkComposer time tracking software. All the information is end-to-end encrypted using the best encryption methods. It allows complete control over data visibility.
Fusion mode
In this feature, the WorkComposer time tracking software starts tracking as the user starts working on the screen. This mode helps know whether the user is utilizing his time correctly or not.
Advantages
Increased Employee Engagement
The feature mentioned above of the WorkComposer time tracking software provides better insights into employee attendance. The type of data they access and an overview of how they spend their time. Are they distracting themselves or using this time for work-related tasks? With the right time tracking tool we can restrict these distractions and maximize employee engagement.
Increased Productivity
The automated screenshots and alert features of the WorkComposer time tracking software can help you to see the activity of your employees. Longer idle periods or active work engagement are monitored effectively. Although most of the employees may not like this feature, it improves the overall productivity of your business.
Increased Transparency and security
The WorkComposer time tracking software helps to solve disputes and provides transparency. Let your employees know that they are being monitored during work. The software increases their work efficiency and transparency. The reports on employees' behavior and productivity help them to improve their routines and work ethics. The overall functionality improves when all the system components work properly.
Price
The WorkComposer time tracking software is a cloud-based tracking system specially designed for managers and business owners to manage remote workers. It's only $2.99 per month per user. The subscription is based on the number of users you want to add to your team.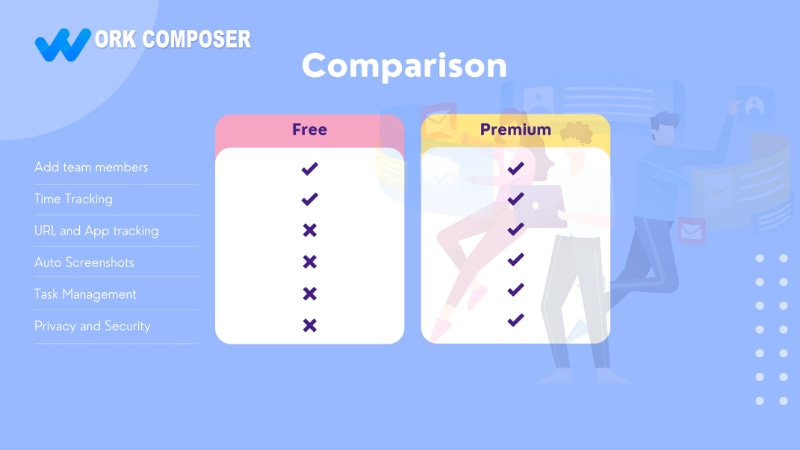 Try WorkComposer's Time Tracking Software for free
WorkComposer offers a 7-day free trial. The trial plan offers the same basic features as paid plan for limited time. You can add team members, start tracking, have an insight into productivity, and much more.