Categories
Find Your Most Productive Employees With The Best Productivity Tracking Software
Which productivity tracking software tools for employees are worth it?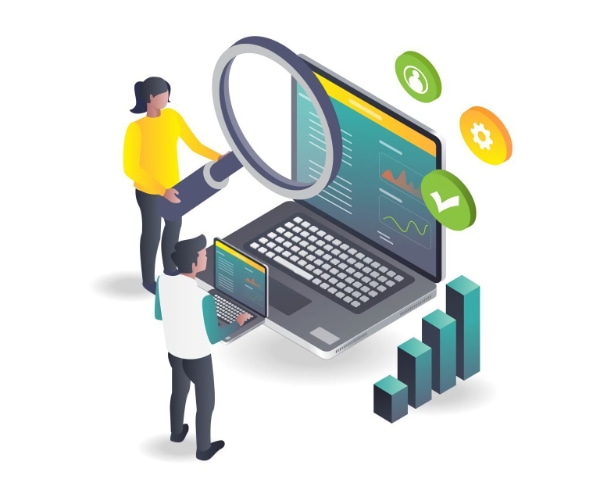 Remote work is becoming more common. Teams communicate and interact online, making it challenging to track productivity. Management must find innovative and interactive ways to monitor and measure the productivity of their employees.
Managers can monitor their team's productivity and accelerate task completion with employee productivity tracking software like WorkComposer. They don't have to be present to oversee their employees' day-to-day activities.
What is Employee Productivity Tracking Software?
Productivity tracking software provides information about employee productivity and the time taken to complete each task. The software tracks employee productivity and monitors their activities. Managers can monitor their employees by their immediate reports and analyze employee performance immediately. The ultimate goal is to increase employee performance and guide them in managing their workload for better outcomes.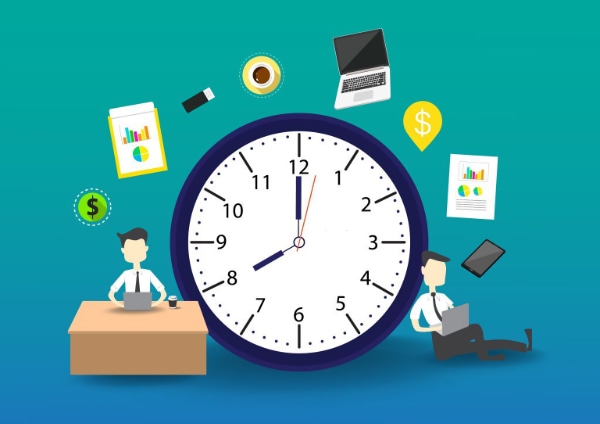 In addition, employee monitoring software makes it possible for businesses to capture employee interactions with customers to ensure high service standards are met and that employees are using time efficiently. To ensure employee quality and specific strategies are working, these solutions can log phone calls, emails, social media interactions, and live chats.
Customer service managers commonly use employee monitoring software to ensure their representatives work effectively and efficiently. Sales teams can also use the tracking software to establish that the right messages are being conveyed to prospects when implementing new pitches or approaches. Organizations can quickly determine which methods are working with software such as Work Composer and pivot accordingly.
Best Employee Productivity Tracking Software
Employer monitoring software offers managers and owners of small businesses valuable insights into employee behavior. Software that tracks employee activity can capture screenshots, block content and applications, block websites, and provide insightful reports.
We reviewed the best "Work Composer" software in 2022 to help you find the right solution for your business. Our considerations included affordability, ease of use and the features that allow you to monitor the productivity and activity of your employees.
WorkComposer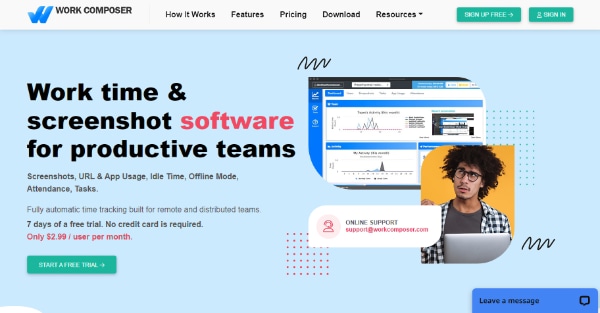 The best employee productivity management software is Work composer. Even remote workers may have difficulty estimating their productivity. You can accurately track employee time and user activity with Work Composer's non-invasive features, improving team productivity.
You can easily implement and access Work Composer. All that is required is a one-time software installation on your PC, and then you can review your PC's activity from any device. This is ideal for managers who are away from the office but want to keep an eye on employee behavior.
It's possible to keep track of an employee's entire activity through Work Composer's monitoring profiles. With Work Composer, you can track employee attendance, record file usage, track web and application usage, and generate productivity scores.
Besides setting maximum employee hours, you can track their web usage, software access, games played, and keystrokes. Windows devices can also take screenshots of user activity, including file activities, chats, portable drive usage, and printing jobs.
Employee Monitoring Software Features
You can choose which features you need based on how you wish to monitor your employees with employee monitoring software.
Consider your reasons for installing this software. What can you do to ensure your employees aren't browsing the web or Facebook while they're on the clock? Concerned about leaking confidential information? How can you keep an eye on cybersecurity risks?
In addition, you must decide whether you'll actively use this software or whether you'll require notifications if it detects prohibited activity. Here are some top-notch features of the best productivity tracking Work Composer software:
App and website tracking
Your employees' applications and sites visited via this feature are displayed to you. Additionally, it records how long they spend on each application, website, or program.
Screenshots, videos or live feeds of monitors
Are you interested in seeing what your employees are working on? It is not uncommon for employee monitoring software to take screenshots of employee monitors at random (and even allow for multiple screenshots). Some even provide a live view, while others record images of monitored activities.
USB and print monitoring
These are essential things to have if you are concerned about data leaks. You'll get a notification if the software notices a thumb drive or portable hard disc being inserted into a work computer. Print monitoring is the program's process of keeping track of the documents printed from each computer.
Productivity tracking
There are several methods for assessing employee productivity. For instance, some software monitors productivity by spotting mouse and keyboard movements. Others demand that workers keep track of their time on tasks or client projects.
Outro
This article is for managers and company owners looking for the top employee monitoring software. Managers can monitor the productivity of their employees and use the tool to speed up task completion. Business owners and team managers can use these tools to motivate employees, make tasks more accessible, and save time and money.